Abnormal Push Notification on Android Phone¶
If you fail to receive push notification or can only receive it after your phone is unlocked, please follow the troubleshooting tips listed below to solve the problem. There are several possible causes for the problem.
Note
On Android phones, Push Notifications is received and sent to MOCREO Sensor App via Google Cloud Messaging Service. Any event that disconnects MOCREO Sensor App from the FCM Service can be the cause of the problem.
Cause 1. The MOCREO Sensor App is closed by the Battery Saver.¶
Android has 'Battery Saver' mode in the Battery Settings which automatically adjusts the display & other parameters that are draining your battery. Battery Saver, first of all, tries to reduce the brightness & kill some background processes that are running in the background but not being used.
Solution: Please avoid turning on the Battery Saver Mode when using MOCREO Sensor App
Please enable MOCREO Sensor app to run in the power mode or in the background ( example below )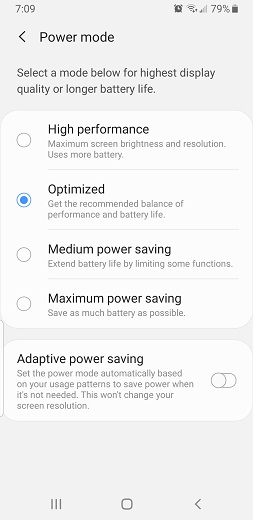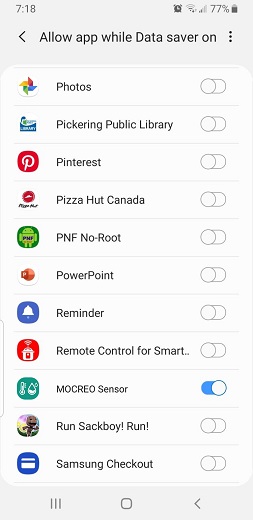 Cause 2. The network of the MOCREO Sensor App is disconnected by Battery Optimization.¶
The Battery Optimization in the Battery Settings extends the battery life by cutting off the mobile data connection or the Wi-Fi connection, both of which disconnect MOCREO Sensor App from the Google server, hence the abnormal push notifications.
Solution: Go to Apps -> Configure apps -> Battery optimization -> All apps, and then disable battery optimization for the MOCREO Sensor App. You may also use an alternative battery saver app that does not impact the data connection.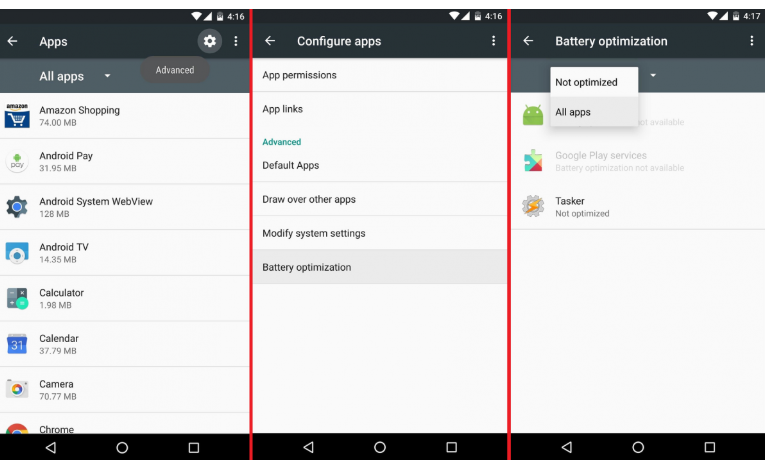 Cause 3. The MOCREO Sensor App is closed manually via Task killer.¶
Solution: Please avoid closing the MOCREO Sensor App or lock the MOCREO Sensor App before closing the background process.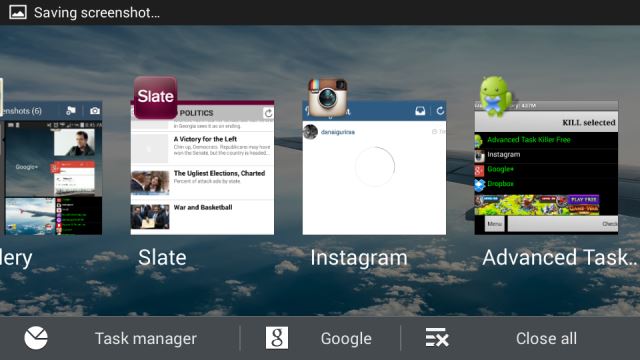 Cause 4. Android heartbeat interval.¶
Android's Heartbeat Interval is the duration it takes between the devices connecting to Messaging Servers of Google for fetching push notifications. On Wi-Fi, this duration is set at 15 minutes by default while cellular network interval is set at 28 minutes.
Solution: Use the Push Notifications Fixer app. You can download the app from Google Play. It is available for free.
Cause 5. Enable "Auto Run" for MOCREO Sensor App.¶
Auto Run allows MOCREO Sensor App to receive push notifications in time on some android devices, like Sansung and Huawei smart phones/tablets. "Auto Run" for MOCREO Sensor App is only dedicated to receiving push notifications.
Solution: Use the Smart Manager app, find "Auto run apps", enable "Auto Run" for MOCREO Sensor APP.