Using A Real-time Temperature & humidity

Monitoring System For Your animals
Maintain the optimal environment condition for animals

Make animals feel comfortable and grow healthily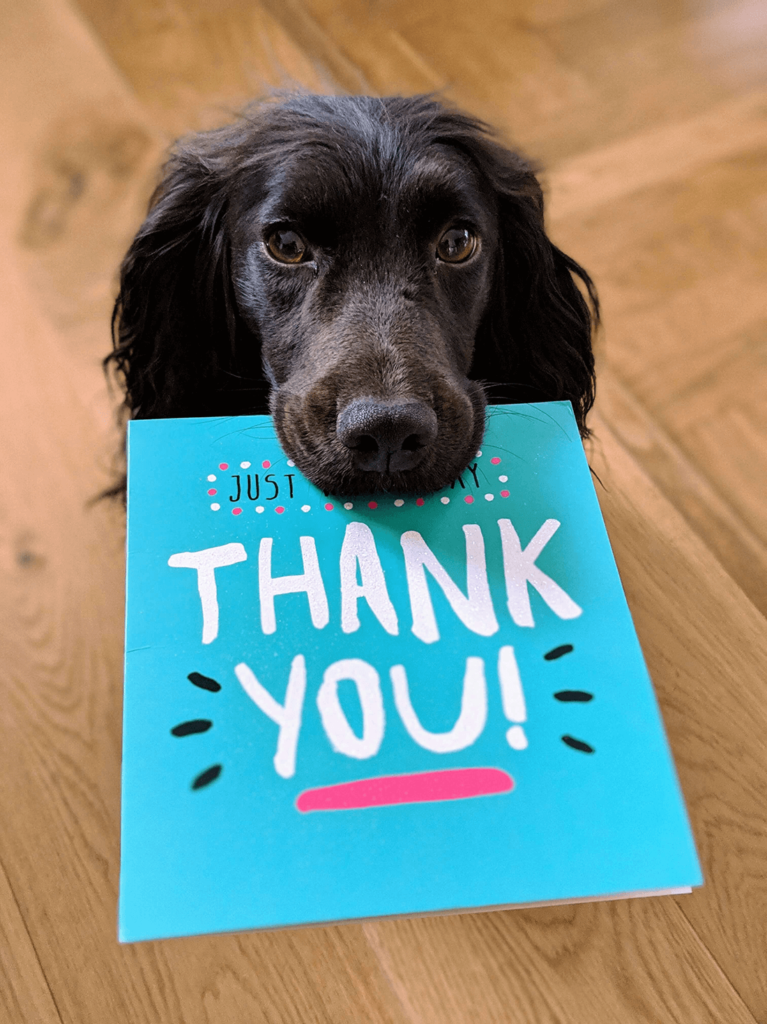 Neglecting a abnormal temperature leads to ripple effects
for Animals
We could see animals in various sites in daily life. For example, in the animal care facilities, in the zoos, in the veterinary clinics, in the pet shops or as a K-9 Units partner. Additionally, it is common that people keep pets in their lives nowadays. They would travel with their pets but they have to leave it in the RV at some moments. Or they have to leave it at home because they need to work or they plan to go out.
As we all know, animal would feel uncomfortable at the overheated or low temperature. If animal stay at the abnormal temperature for a long time but we don't know that, it would put animals' life at risk. Or when you are out of site, you want to know whether the air conditioning or heating system function well or not for making sure animal safety.
Above all, to help monitor and maintain the ideal growing conditions for your animals, you will need a real-time temperature & humidity monitoring system.
With a temperature & humidity monitoring system
it keeps an eye on your animal safety.
With real-time monitor and instant alert
Remotely monitor the temperature & humidity anywhere at any time
Instantly Alarm any abnormal temperature deviation occurs.
By doing so, it maintains the optimum environment conditions for animal growth
As well as remove people's concern to focus on other things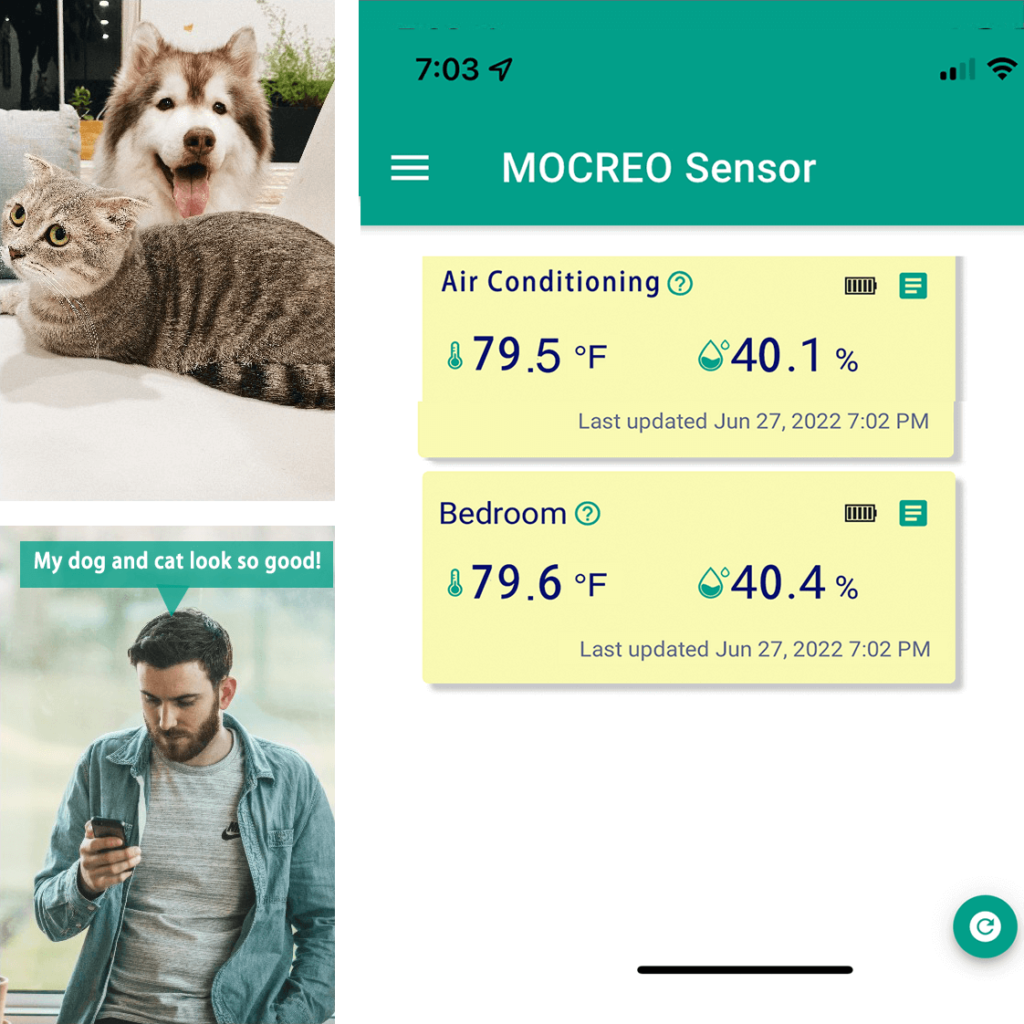 What is a temperature & humidity
monitoring system?
Accurate data collections 
People can preset the temperature that he wants to be notified in time and then places some wireless sensors nearby the places that people want to monitor. When the temperature is out of normal range, they will be notified timely by app notification, e-mail or beeping on the hub. In this way, they can take action immediately before the potential issues become the serious issues.
The benefits of a temperature & humidity
monitoring system
A Cost-Effective Solution For You
Remote Monitor & Accurate data
Build-in the Swiss-Made Sensor chip (SHT30), MOCREO Sensor provides people with the accurate value. They can always know temperature and humidity conditions anywhere at any time. They don't need to be in the site to read the environment conditions.
That means they can remotely monitor the temperature range in the appropriate zone to make sure animals grow at a proper temperature. Meanwhile, the accurate data can assist people to make regular inspection for environment conditions. And the historical temperature data can be recorded automatically. This allow you to read the past temperature change condition and guide you to make manual adjustment for the more stable and safer animal growth temperature. You could also exported these data to CVS if you need it.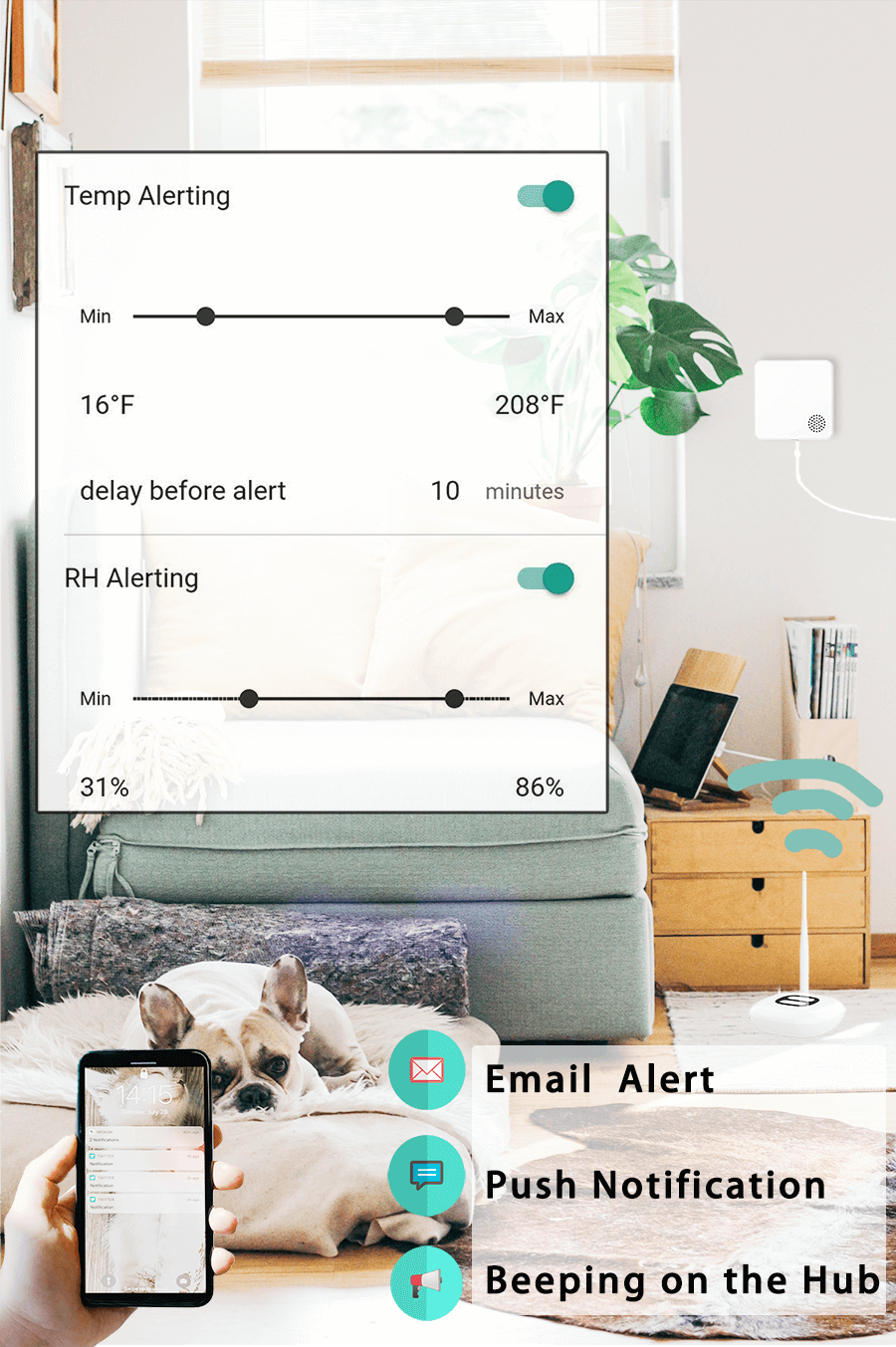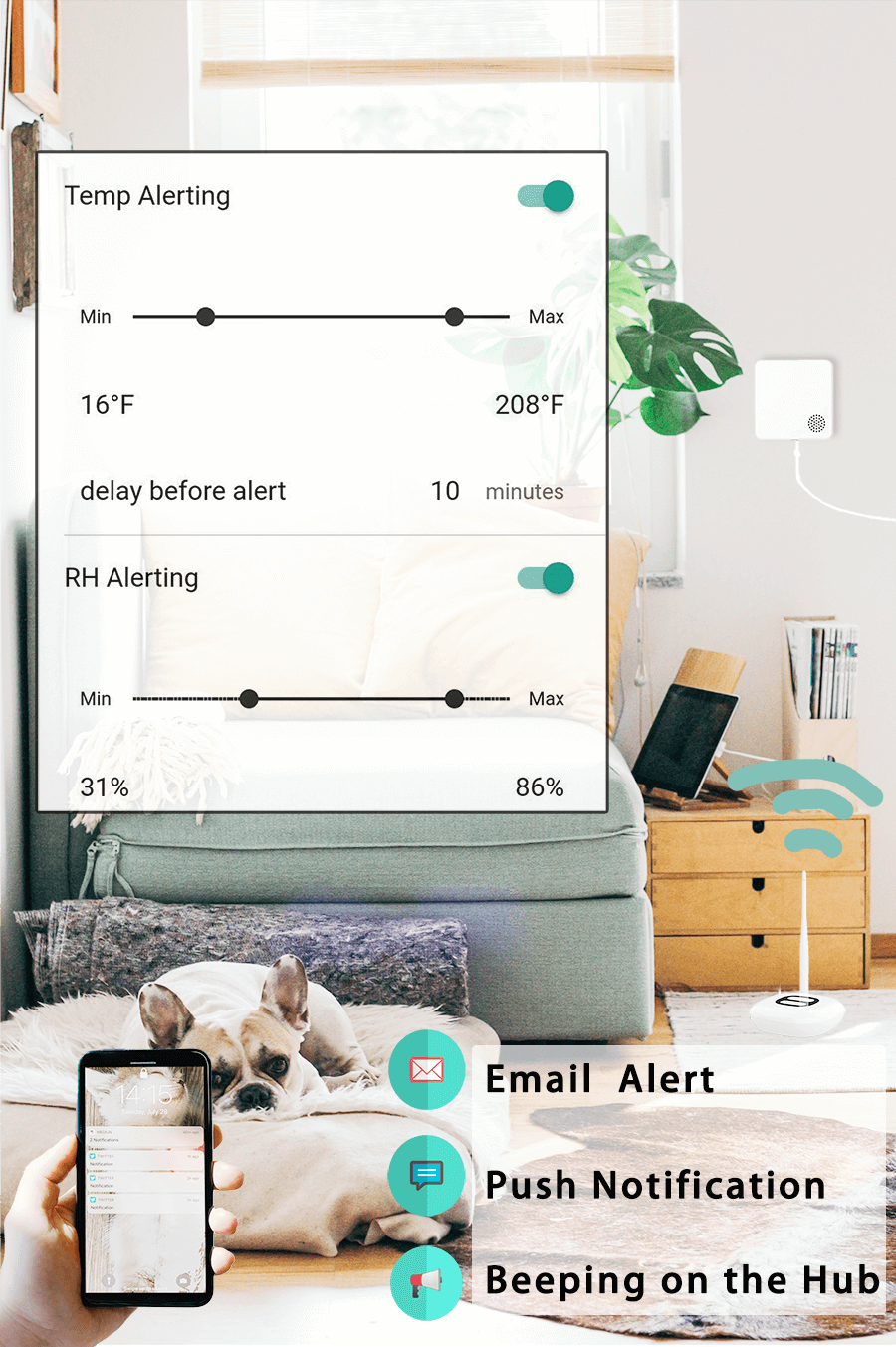 Notifies people through app notification, email alert, beeping on the Hub when temperature & humidity exceeds the set value.
People can focus on other things without any concern and only be notified them in minutes when there is any abnormal temperature fluctuation due to facility failures or extreme weather change. Push you to take action in time to protect animals safety.
It's easy for multiple users or devices to log into the same account and monitor and get alerts, which means multiple people can share the responsibility for regular environment conditions monitoring together, thereby enhancing the monitoring strength.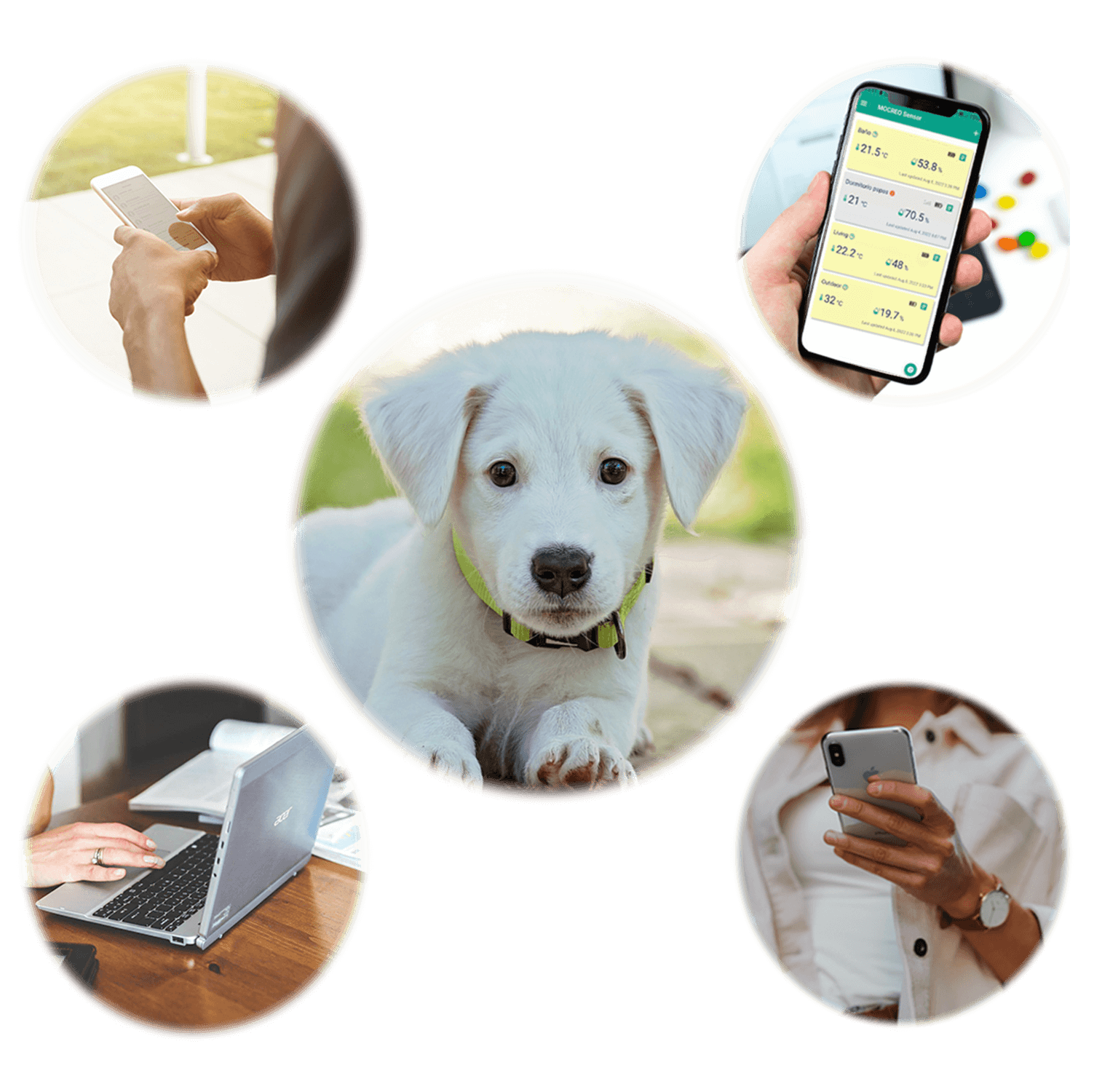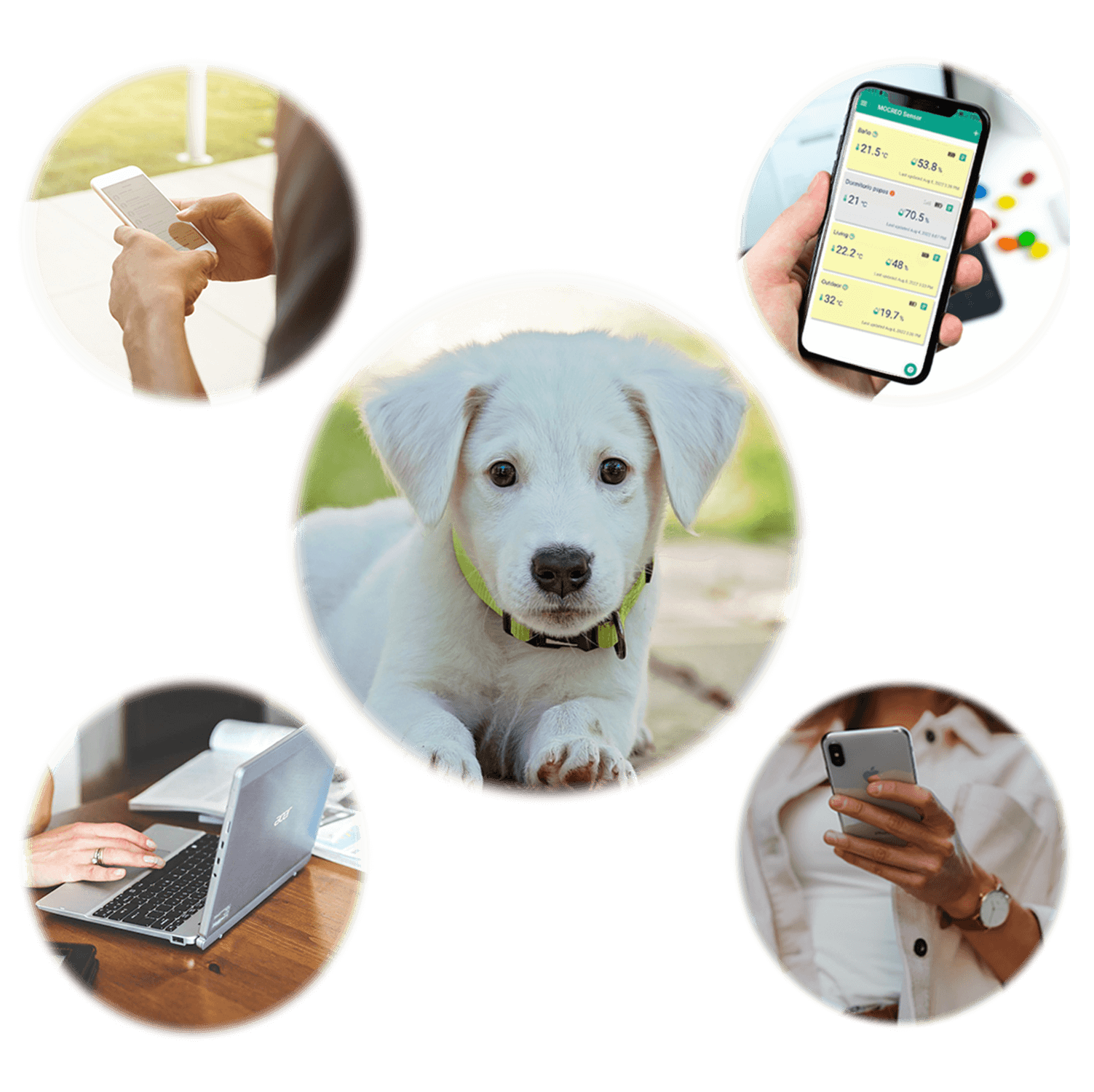 Multiple Occasions & Easy Installation
Single hub supports up to 10 sensors to be connected at multiple occasions. People can deploy hub with the wireless sensors any location where they want to monitor the temperature.
If you want to regulate multiple facilities or occasions, our temperature & humidity monitoring system is your ideal scalable solution.
How does MOCREO System work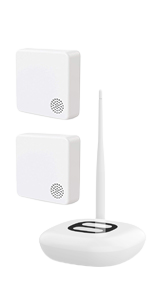 ST3 Temperature & Humidity Sensor Kit
Measurable Data: Temperature & Humidity
Push Notification:✓
Remote Monitor:✓
Temperature Range:-4°F~140°F (-20°C~60°C)
Accuracy:±0.3℃, ±3%RH
Contains rechargeable battery with multi-year battery performance

Predictive insights that drive optimization and new revenue opportunities
Built with cloud-based enterprise-level software platform with network, sensor, security and data management
Completely cloud configurable hardware (no need to change device firmware)
Easy third-party Sensor/Device and machine interfacing and integration through server-side sensor management system
Over-the-Air (OTA) updates and device diagnostics
Supported by a full IoT security stack, power and device management and Data-as-a-Service out of the box