A Real-time Temperature

Monitoring System For Your Lab
Discover earlier and take action timely

before potential temperature issue occurs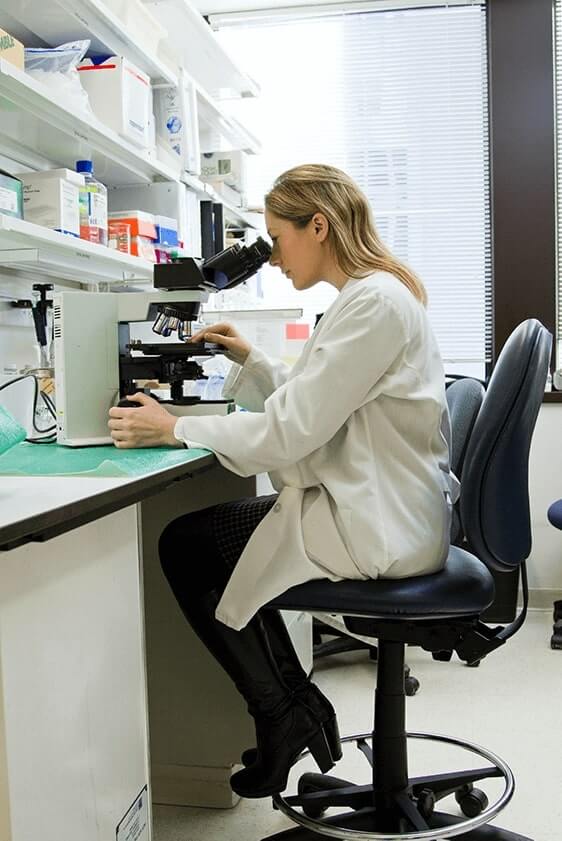 Like cells, embryos, or bacteria, all of these biological cultures are highly sensitive for storage temperature so they must be stored in incubators at pollution-free environment. If a incubator without at a certain temperature, it could not protect them from being contaminated thereby lead to a detrimental influence for their growth.
Neglecting a abnormal temperature leads to ripple effects
for your Lab
As we all know, there is very stringent temperature requirement in laboratory. A slight temperature change would lead to a bad result for laboratory. Even if freezers have a temperature display and alarm that could be seen and heard in the lab and nearby rooms, it is unavoidable that lab personnel are not in the labs at some moments.
If temperature is abnormal but no one know about it, researchers might have to encounter the following bad results:
When there is a small temperature fluctuation, samples are tend to be damaged to some extent thereby impacting the quality of the samples. Furthermore, it would influence the validness of experiment results and lab personnel have no choices but to test again, which not only increases their time cost but also lows the working efficiency.
If some certain animals grow at a unstable environment, they would feel uncomfortable and weak. Lab personnel have to throw out them, which leads to laboratory resources waste. Similarly, chemicals also need to be stored at a strictly controlled environment otherwise they would lose the effect and then affect the experiment results.
A Temperature Monitoring System With Instant Alert
it keeps an eye on All Of Your Lab Resources
With real-time monitor and instant alert
Enable you to do other affairs without any concern
Alert you if any slight temperature deviation occurs.
By doing so, it optimizes the labor resources distribution in the lab
As well as helps protect the safety of lab resources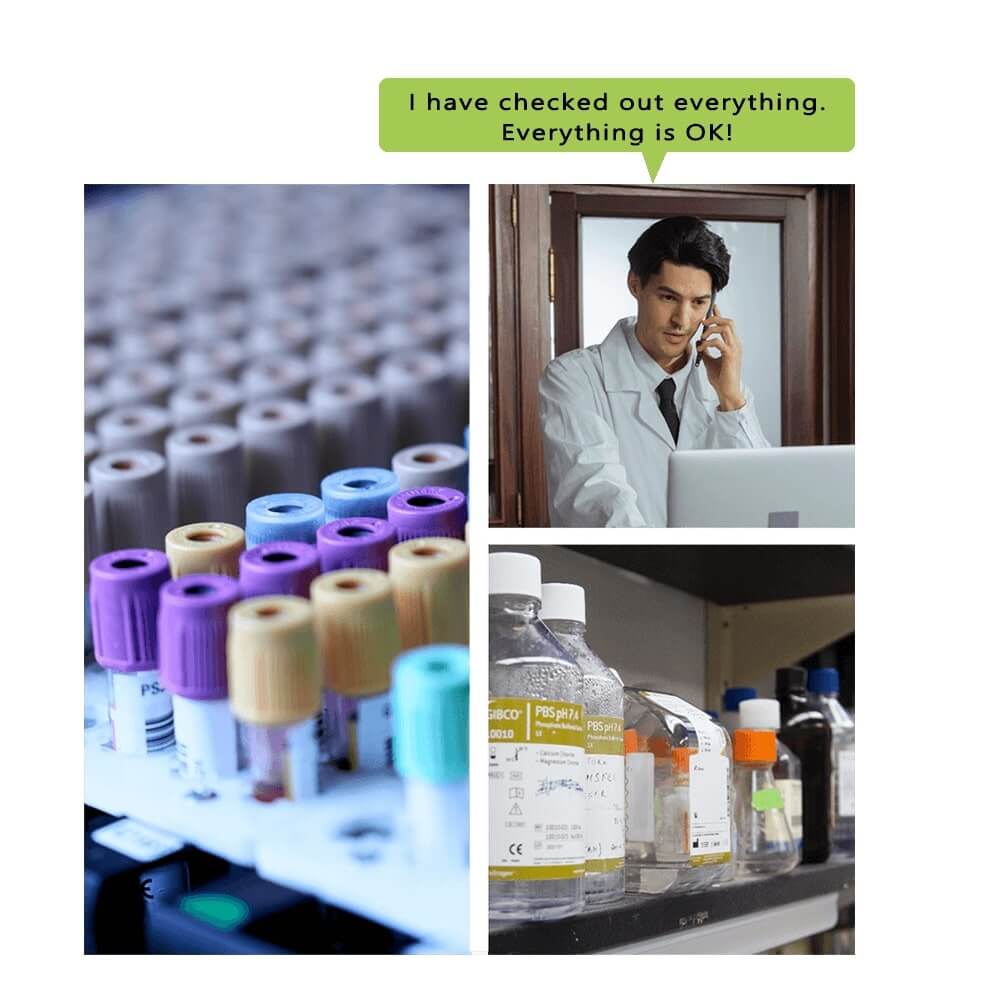 What is a temperature monitoring system?
Real-time monitoring
Instant alert 
Historical data collections
The lab personnel can preset the temperature that he wants to be notified in time and then places some wireless sensors nearby freezers or incubators. When the temperature is out of normal range, the researchers will be notified timely by app notification, e-mail or beeping on the hub. In this way, they can take action immediately before the potential issues become the serious issues.
A Cost-Effective Solution For You
Monitor from anywhere, anytime!
With the MOCREO App/Web Portal, researchers can always know the temperature conditions of any refrigerator or incubator anywhere at any time even though they are outside of working hours or on vacation. 
That means it can remotely monitor the temperature range in the appropriate zone to make sure samples, cells, embryos, and so on are stored at a certain temperature. Meanwhile, accurate data can assist you to make regular inspections and maintenance for lab facilities to discover any slight abnormality before the occurrence of a serious malfunction.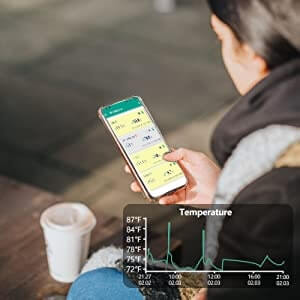 Notifies you through app notification, email alert, beeping on the Hub when temperature exceeds the set value.
Lab personnel can focus on other responsibilities without any concern and only be notified them in minutes when there is any abnormal temperature fluctuation in refrigerator or freezer, due to without being closed properly, sudden malfunction or power outrage. Push them to take action in time to avoid lab resources losses.
The data can be recorded automatically and you can store the historical temperature data.
Data turns into graph to better analyze the historical temperature. 
Historical data can also be exported in CSV file, which can also be used for a 3rd party system. 
That means lab personnel needn't manage their staff to record the temperature data manually, which saves time, avoids data mistakes and optimizes the labor.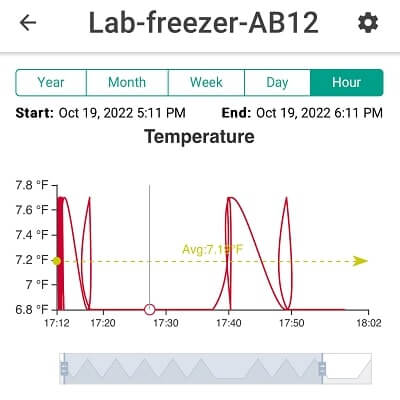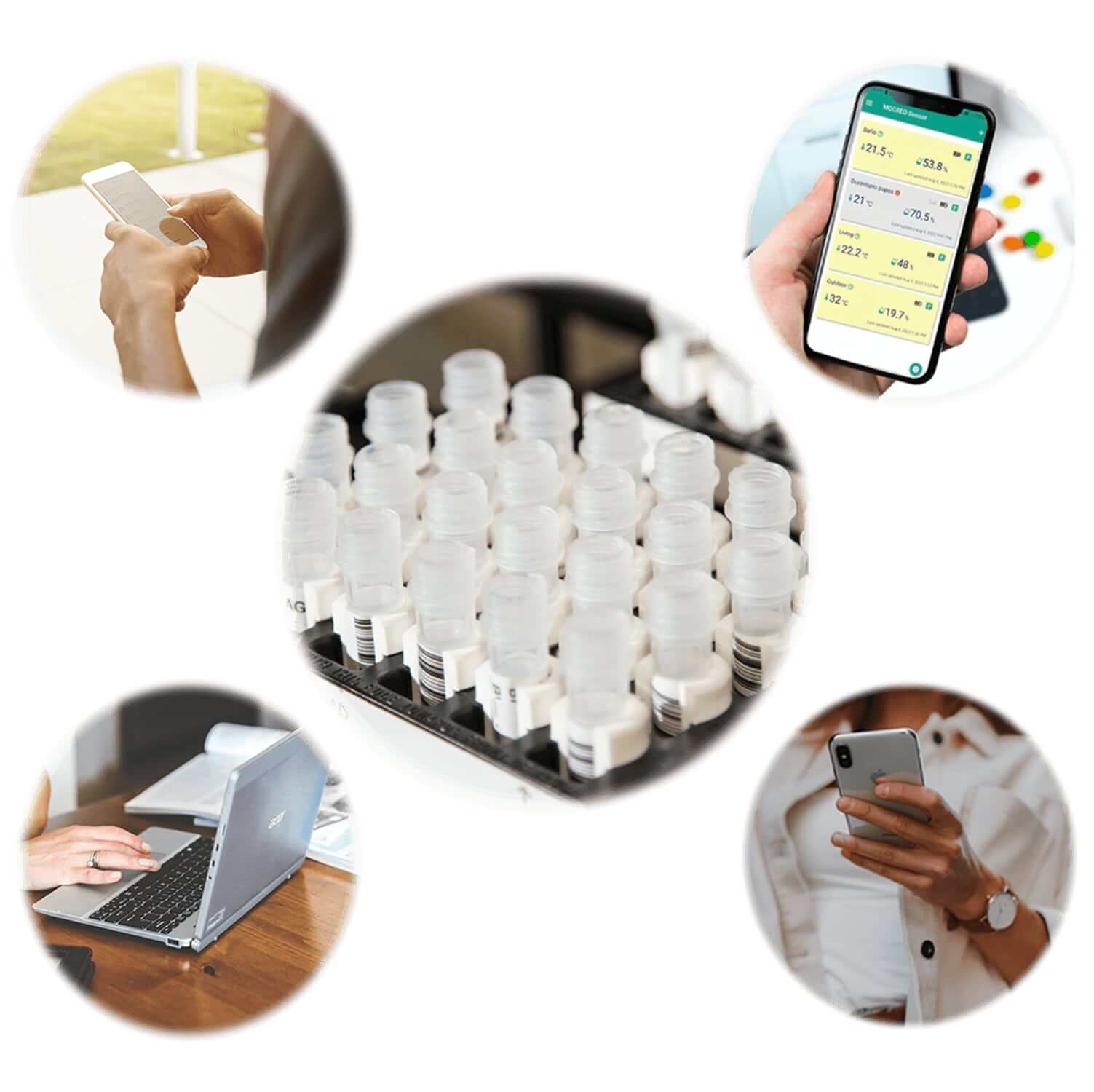 It's easy for multiple users or devices to log into the same account and monitor and get alerts, which means lab personnel can shares the responsibility for regular facilities monitoring together, thereby enhancing the monitoring strength for lab facilities to some extent.
Setup in minutes and central management
Central management: use one single MOCREO account to manage all your Sensors. 
Setup in minutes: The solutions can be set up in minutes, and greatly reduce the maintenance fee (the only maintenance fee will is to charge the Sensor once a year!)
Easy to scale: An ideal scalable solution for temperature monitoring for fridges, freezers, or other kinds of facilities.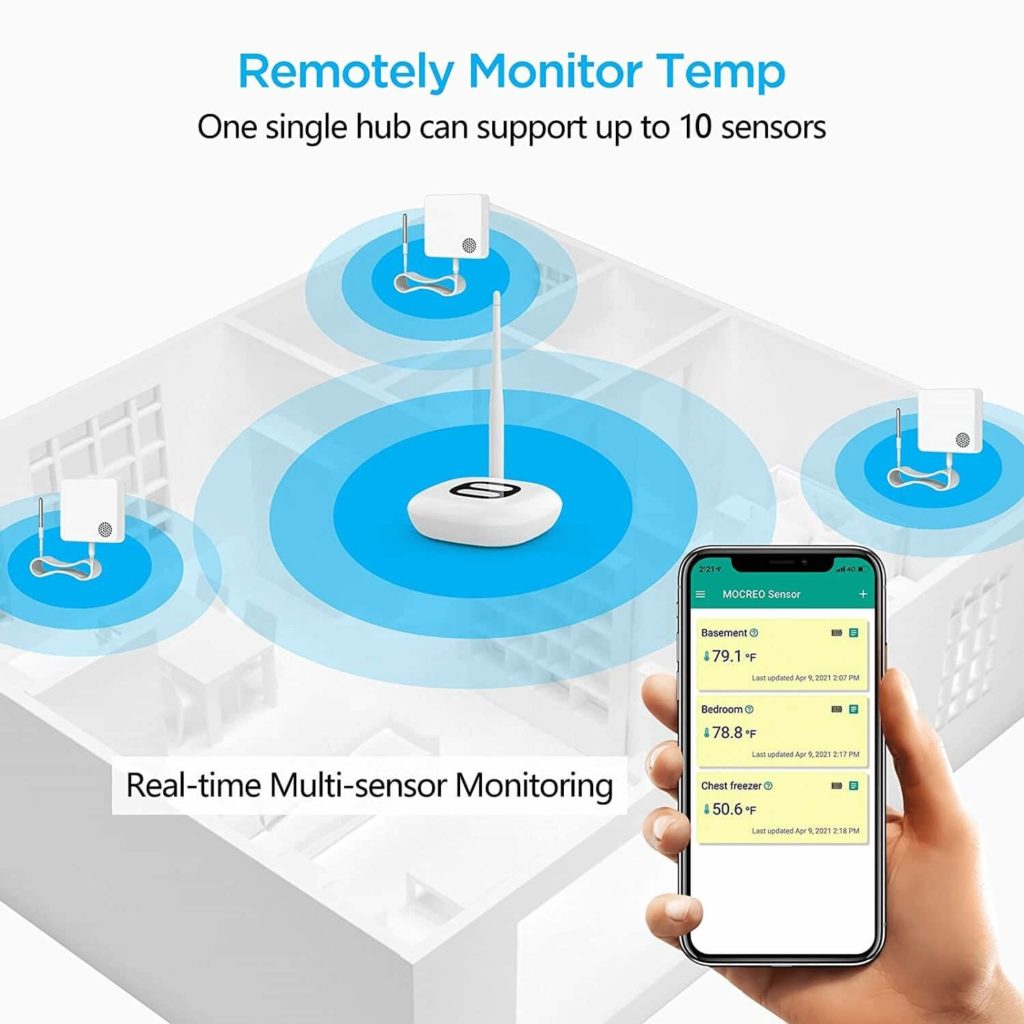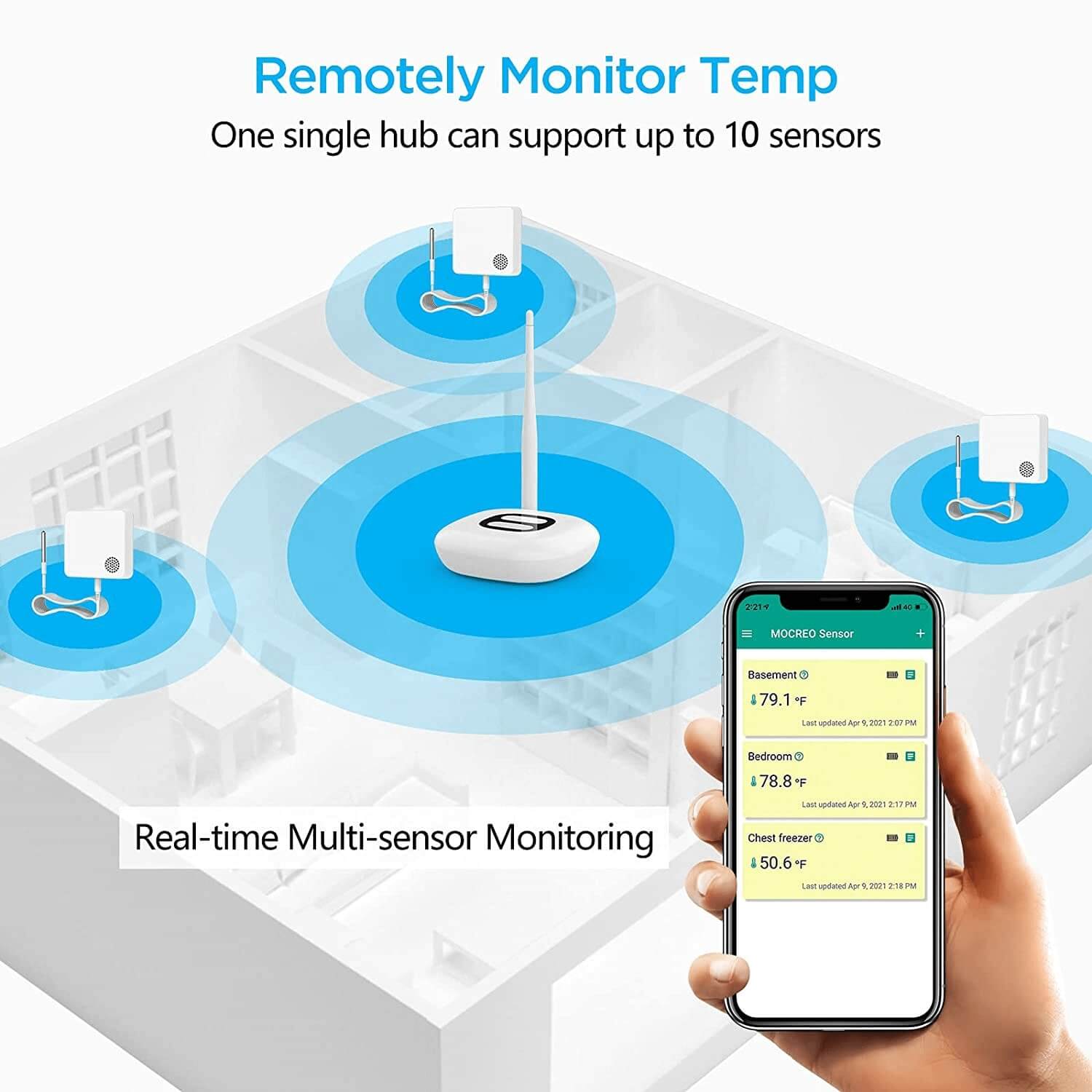 How does MOCREO System work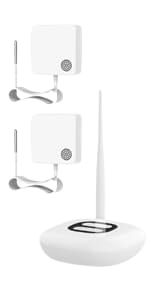 ST4 Temperature Sensor Kit
Measurable Data: Temperature
Push Notification:✓
Remote Monitor:✓
Temperature Range:-40°F~257°F (-40°C~125°C)
Accuracy:±0.5℃
Contains rechargeable battery with multi-year battery performance
Predictive insights that drive optimization and new revenue opportunities
Built with cloud-based enterprise-level software platform with network, sensor, security and data management
Completely cloud configurable hardware (no need to change device firmware)
Easy third-party Sensor/Device and machine interfacing and integration through server-side sensor management system
Over-the-Air (OTA) updates and device diagnostics
Supported by a full IoT security stack, power and device management and Data-as-a-Service out of the box