It is important to know the temperature conditions for you
Are you bothering with the abnormal temperature fluctuations 
but you failed to discover that in advance?
Because of that, you have no choice but to deal with the overwhelming losses
MOCREO's real-time temperature
monitoring system is the ideal solution for you
be cost-effective for avoiding unplanned cost
be time-saving for manual monitoring
be easy for scalable deployment
MOCREO monitor remotely
Alert instantly temperature
Anywhere at any time
With A Temperature
Monitoring System With Instant Alert
It Plays A Key Role In
Predictive Maintenance And Regular Inspection
You can always know the real-time temperature conditions of facilities anywhere at any time even though you are not at the site.
Notifies you through app notification, email alert, beeping on the Hub when temperature & humidity exceeds the set value.
Free storage of 3 months of historical data for your analysis or export to CSV for historical track.
Build-in the Swiss-Made Sensor chip (SHT30), MOCREO Sensor provides you with the accurate value. 
Single hub supports up to 10 sensors to be connected at multiple occasions
Easy for multiple users or devices to log into the same account and monitor and get alerts.
Why Clients Choose MOCREO
MOCREO Temperature & Humidity sensor Products
ST4 Temperature Sensor Kit
Measurable Data: Temperature
Push Notification:✓
Remote Monitor:✓
Temperature Range:-40°F~257°F (-40°C~125°C)
Accuracy:±0.5℃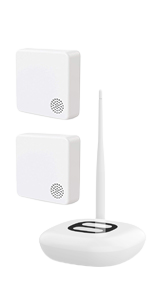 ST3 Temperature & Humidity Sensor Kit
Measurable Data: Temperature & Humidity
Push Notification:✓
Remote Monitor:✓
Temperature Range:-4°F~140°F (-20°C~60°C)
Accuracy:±0.3℃, ±3%RH