A Remote Temp Monitoring System

For Cold Chain
Real-time Monitoring | Instant Alerts | Auto Data Collection
Whether you're a pharmaceutical manufacturer, quality assurance manager or logistics personnel, making sure the safety of temperature- sensitive products during shipping is the big deal. In other words, you need to do a good job in temperature monitoring in cold chain management.
Temperature is the most critical factor in cold chain transportation. It should be maintained within a certain range to ensure the quality and safety of the products. Factors like weather, temperature, humidity, etc., can all affect the insulation and preservation effect of products.
Maintaining a consistent temperature throughout the journey is crucial to ensure product quality and safety. However, temperature fluctuations may occur due to factors like weather conditions, handling, and equipment malfunction.
The cooling equipment used in cold chain transportation is susceptible to malfunctions, which can lead to temperature deviations and compromise the quality of the products.
it may be difficult to know whether there has been any temperature deviation, which is tend to cause the potential asset loss
MOCREO offers 24/7 automated monitoring for better cold chain management, ensuring the protection of temperature-sensitive inventories. Equipped with wireless sensors, it collects temperature data and detects abnormalities. 
In case of any issues, you and your team will receive alert notifications via email, App notification, and local buzzer, avoiding any negative impact on your medications. Quick ROI is guaranteed as MOCREO provides actionable insights and time-stamped data for compliance audits.
24/7 real-time monitoring
Real-time monitoring allows you to directly see the current device status, including parameter values, temperature, and humidity levels.
3 optional instant alerts
Push notifications, emails, or device beeps will prompt people to take action if temperature goes above or below set limits
Historical data export of each sensor ease staff on manual data checking, logging for analysis.
Users can log in at different devices to view the dashboard for real-time environment status checking.
Local power failure alarm
The alarm will be triggered if equipment loses power unexpectedly, alerting you to prevent the situation from worsening.
Detect the state of a window or door and record when it is ajar. Sense the movement of people and monitor the sensitive areas.
Improve product quality and safety
It can ensure that the temperature is controlled within a safe range and prevent temperature-sensitive product corruption, deterioration or failure.
Comply with regulatory requirements
With proper temp record-keeping, certain industries, like food and medical, can ensure compliance and avoid fines.
Through real-time monitoring and automatic alarms, problems can be found and solved quickly, avoiding unexpected losses.
automatic temp monitoring and information recording realize the timely provision of data without manual participation.
Improve customer satisfaction
maintaining product quality, safety and effectively solve problems can enhance customer satisfaction and win customer trust.
The MOCREO cold chain management IoT solution is the system for monitoring environmental conditions remotely.
It has wireless sensors, a gateway for transmitting data, and a MOCREO platform for monitoring.
The system can send notifications, emails, and alarms if there is any abnormal condition. The solution is easy to install and can be scaled easily for large deployment.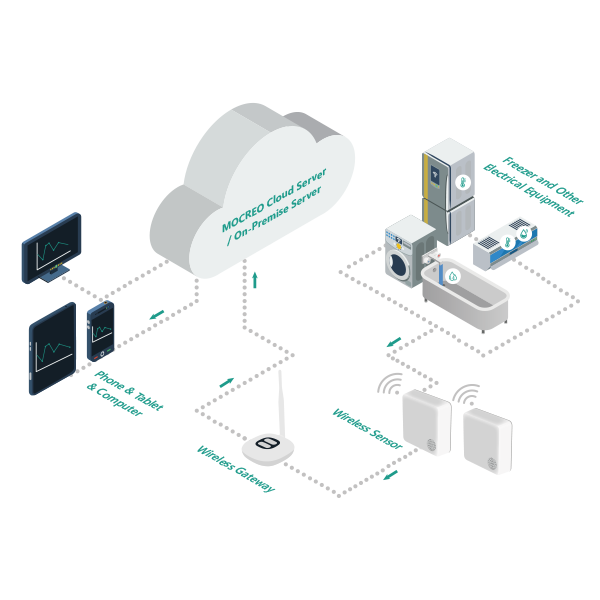 Hardware
With the intelligent measurement and control system, the remote monitoring terminals (including various environmental sensors and industrial gateway wireless communication terminal) are installed at each collection and monitoring point as a distributed control node station. The main equipment includes low temperature sensor, temperature and humidity sensor, infrared detector, door and window sensor, power failure alarm, dense fog sensor, flood sensor, etc.
Long battery life
Easy to scale
Reliable, proven technology
Server
Software
Model: ST5
Function: To monitor the low temperature of refrigeration equipment, cold storage, etc. Historical data on the temperature can be recorded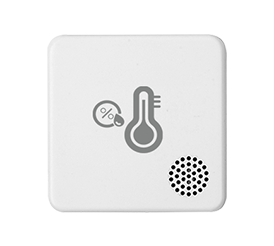 Model: ST6 
Function: To monitor the temperature and humidity. Historical data can be recorded.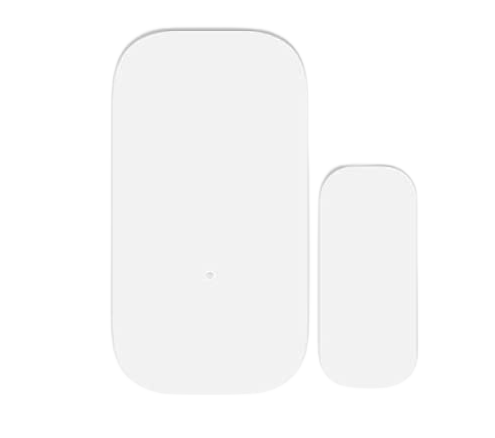 Model: SD1 
Function: Records the log of when the freezer door was open.  Automate the workflow and save the labor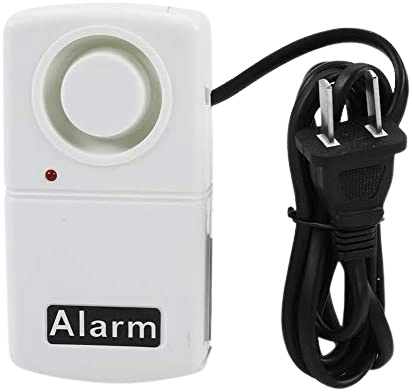 Model: PT1
Function: To monitor once an equipment loses power, alarm instantly; Detect the smoke and fog in the room and detect the fire in time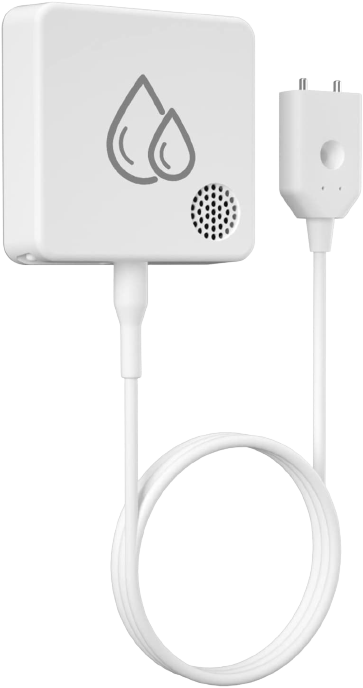 Model: SW2 
Function: To detect whether there is water on the ground or to prevent medical products get moldy caused by water leakage in pharmacies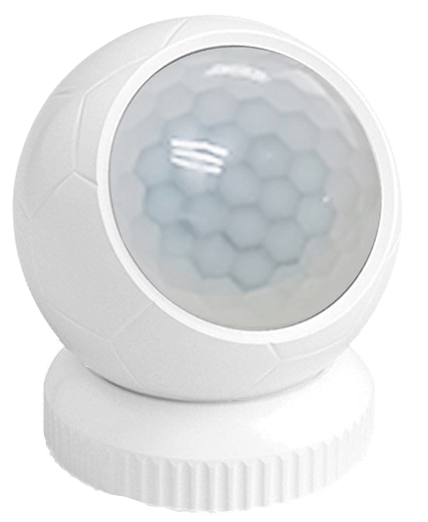 Model: PIR 
Function: To detect the presence of people in the area. Analyze the space utilization and presence log.
Stable system architecture
Our solution provides access and management capabilities for a large number of devices, connects your IoT devices to the cloud platform, supports device data collection on the cloud and issues commands to devices for remote control, and helps you quickly build IoT security monitoring solutions according to different application scenarios.
Devices
IoT platform
Third-party Integrations
Devices
That is, the perception layer and the network layer in IoT technology. 
All kinds of sensors need two conditions to access to the loT platform:
BLE/ZigBee/Wi-Fi/Lora/ and other communication methods
Intelligent gateways connection and transmission
By doing so, it could make sure the devices transfer the data stably as well as consumes the low energy during the operation.
Of course, through 4G/5G/LTE-M/Ethernet and other networks, it can access the IoT platform, and use the MQTT protocol to report business data to the platform, and the platform can also issue control commands to devices.
IoT platform
Third-party Integrations
The sensor operates with low power consumption and has a battery life of more than 2 years (8 Seconds an update). That means you needn't charge the devices or change batteries frequently. A gateway can manage multiple devices to achieve an N+1 effect.
At the same time, you also needn't train professionals to operate devices. Setup in minutes and easy to use. 
Easily scalable deployment
In the MOCREO solution, a single account manages the sensors that are installed at the multiple locations. To add one more sensor, you just need to place the sensor in the expected position and activate it within mins. To monitor another one location, you just deploy one more gateway.
- What Our Clients Said -
Individual & Organization
MOCREO automated monitoring solution peace of mind. Keep an eye on your medical resources. You could click here to try one sample out. 
We are glad that you could become our partner of the MOCREO family. Lets bring MOCREO Solution to your local market, we help you to succeed!
With professional knowledge and comprehensive after-sales service, we ensure the successful implementation of customer business projects and help deliver products to the market on time. You have ideas, we help you realize them!
Temperature monitoring has a promising impact on the future of cold chain management. With real-time tracking of temperatures, cold chain stakeholders can ensure that goods are stored at optimal temperatures, thereby reducing spoilage and maintaining product quality. 
Additionally, the instant alert allows people to forecast the potential risks and take action in time, leading to optimize the cold chain management and reduced waste.
As the demand for high-quality products with longer shelf lives continues to rise, temperature monitoring is poised to become an even more essential component of cold chain management in the future.