Using A Real-time Monitoring System

for better medical services
Streamline the workflow | Enhance the working efficiency
Caregiving is based on a people-first philosophy, so in order to offer better and more highly efficient caregiving services, it's necessary that the way patients are cared for should be transformed.
The aim of healthcare providers is to provide good care to more patients in need. However, they are facing with such challenges: the amount of patient is increasing constantly while the amount of caregiver is limited, which means the workload of caregiver will be heavier and heavier.
Surveys have revealed that due to the increasing workload, caregivers in the medical field have experienced severe symptoms of job burnout. If it lasts for a long time, it would lead to sleep deprivation, medical errors, high pression or so on.
Caregiver spend most of their time examining each patient and record their status. All of these processes are manual operation. That means the more patients are, the heavier workload is. The workload of traditional manual recording is heavy and time-consuming.
Insufficient early warning mechanisms
Facing some emergent situations, patients sometimes need to yell to get timely assistance. Without an automated system to respond to the patient's requirement in time, it is unavoidable that caregivers would neglect something or discover something bad too lately.
MOCREO's Remote Healthcare Monitoring Solution includes the following three points:
The integration with loT, big data and cloud computing
The connection with internet
The deployment of automated monitoring devices
On the basis of that, it is conductive to accelerating the digital transformation for healthcare organizations, thereby realizing 24/7 real-time monitoring and management.
Measuring and recording of vital signs and health parameters (heart rate, respiratory rate, temperature, oxygen saturation, position, activity, and posture) do not necessarily require a nurse to be physically present to the patient. Otherwise, that would mean an extremely large amount of workload.
Through the user-friendly operation, the MOCREO solution collects infoamtion like the patient's vital signs and living environment conditions to transmit important information to healthcare providers remotely.
Instead of going to the patient's side, with the assistance of the healthcare wearables, oximeters, and blood glucose meters, the care team can have a comprehensive view of all the patient's vital signs remotely and have the health sign updated to their own system.
More importantly, with the help of big data and cloud computing, the burden on nurses and medical institutions can be greatly reduced, thereby providing targeted and high-quality services to more patients.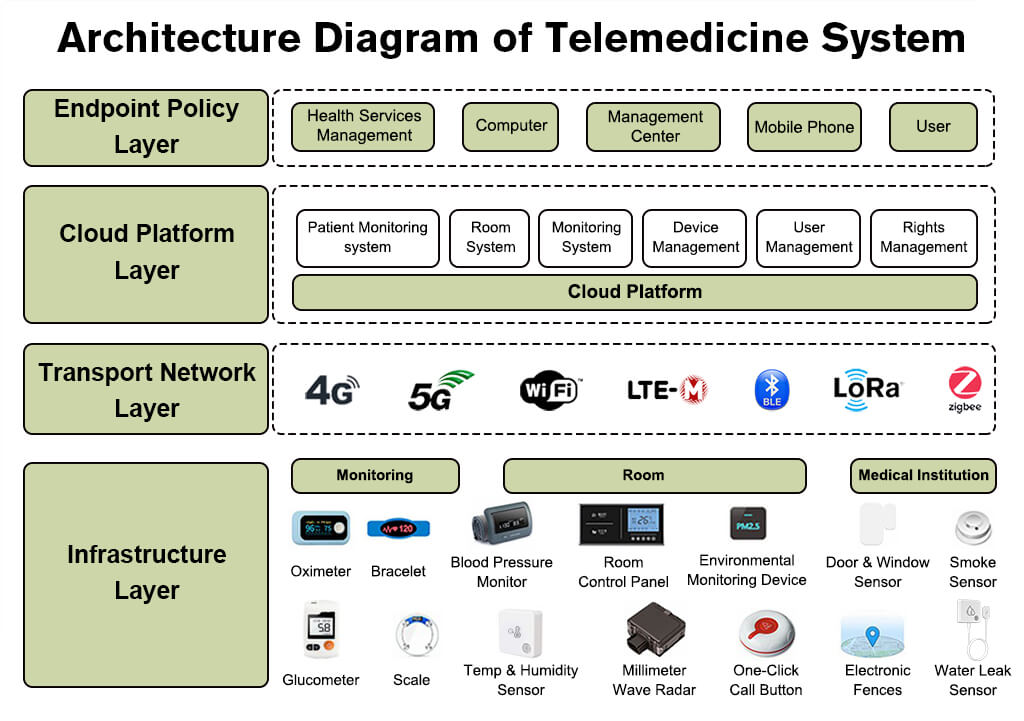 Through oximeters, blood glucose meters, blood pressure and other equipment, the key vital signs information of patient can be uploaded to the system, which is convenient for nurses and doctors to conduct remote consultation.
Real-time Health Conditions
The bracelet is used to monitor the heartbeat and other data of patients. When something abnormal happens, emergency mechanism will be activated to notify families and other medical personnel.
with a full range of electronic fences, when the patient leaves the specified activity area regulated by the community, bracelet will sound an alarm and relative people will receive the notification.
With the function of SOS one-key alarm, patient can press the button at any time, and then the system can realize the alarm, call or send text messages to relevant people.
Changes in the indoor environment are sensed through water sensors, gas/fire monitors and other equipment. When something abnormal happens, the patient could call for help through the smart bracelet and the indoor emergency button.
With millimeter-wave radar monitoring, caregivers or relatives are notified in time when a patient leaves bed or an area at night.
To reduce the burden on nurses
Through automated collecting and recording, it lessens nurses' workload: nurses no longer accomplish the massive data collection, which improves the working efficiency. 
To reduce the manual errors
Because of automated collection, the error rate decreases compared to manual collection, which provides precise data with doctors during remote consultations, enabling them to make appropriate decisions.
To improve the capability of medical service
Integrate with the smart measuring devices and MOCREO cloud platform, nurse and doctor could monitor and check the patient's conditions and other kinds of information any time as well as patients could call for help when they are in difficulties.
MOCREO's Remote Healthcare Monitoring Solution consists of wearable devices, various physical index measuring instruments, wireless sensors, gateways and monitoring software (Web Portal, App) to provide a complete remote monitoring solution.
Wearable devices and various physical index measuring instruments can be used to monitor various health indicators of patients, which can provide real-time data for medical institutions, to give a support for remote consultation. The wireless gateway acts as a communication bridge between the wearable devices and measuring instruments and the MOCREO online monitoring software enables medical staff to view patient information through a computer, tablet or smartphone anytime, anywhere.
The MOCREO software can also instantly sent email or push notifications on the devices, to alert healthcare workers if conditions that are set in advance exceed.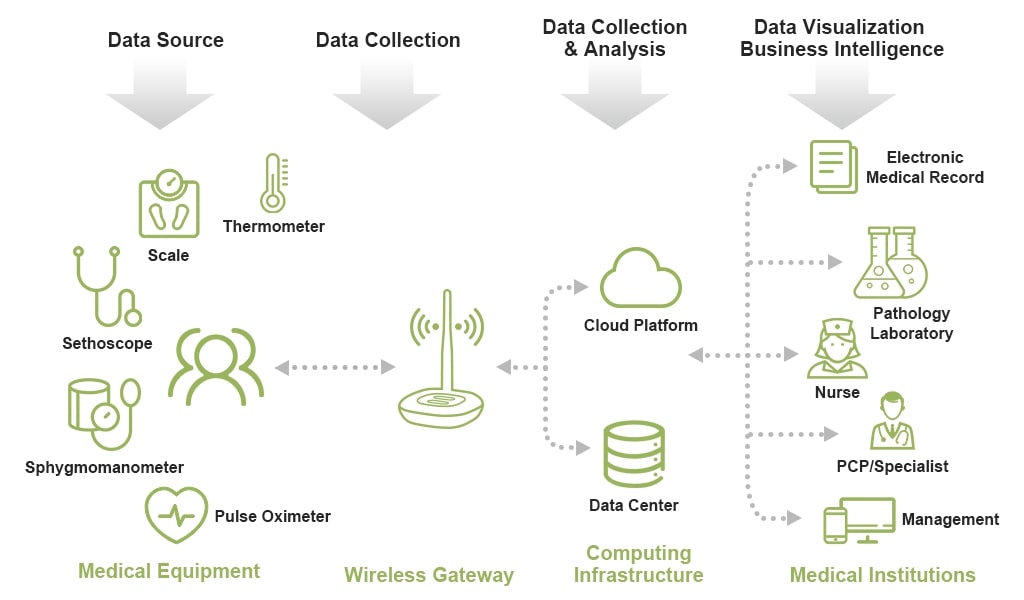 Software
Server (cloud servers/local server)
Hardware
Software
It provides real-time insight into equipment temperature, which allows real-time visualization of data, and timely out-of-standard events detection.
The personnel on duty can receive alarm notifications in time through their mobile phones to intervene earlier when necessary.
Easy to set up and use
Alert threshold customization(like blood pressure or Blood oxygen)
Clear management of individual patient health parameters
Server (cloud servers/local server)
Hardware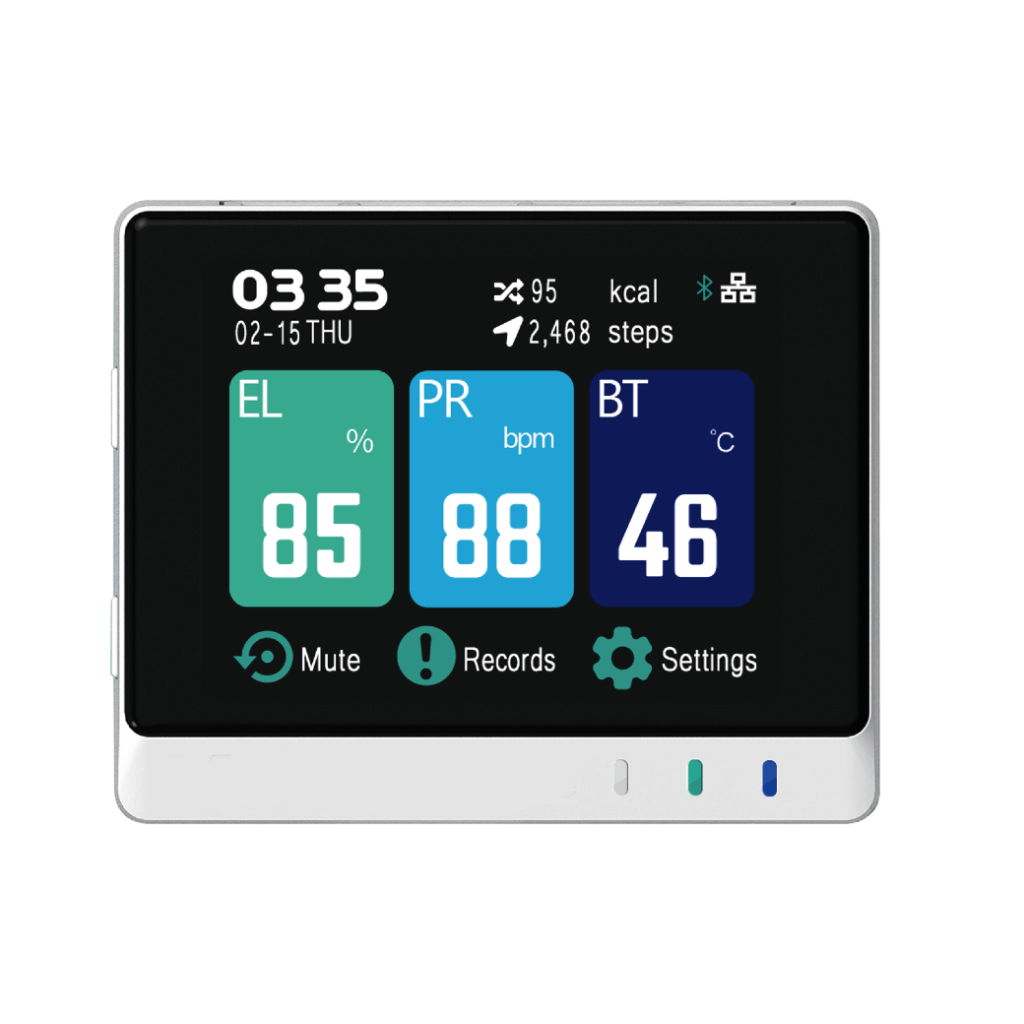 Model: G3
Function: Collects the data from the IoT devices in real time. Improve the function of the whole system.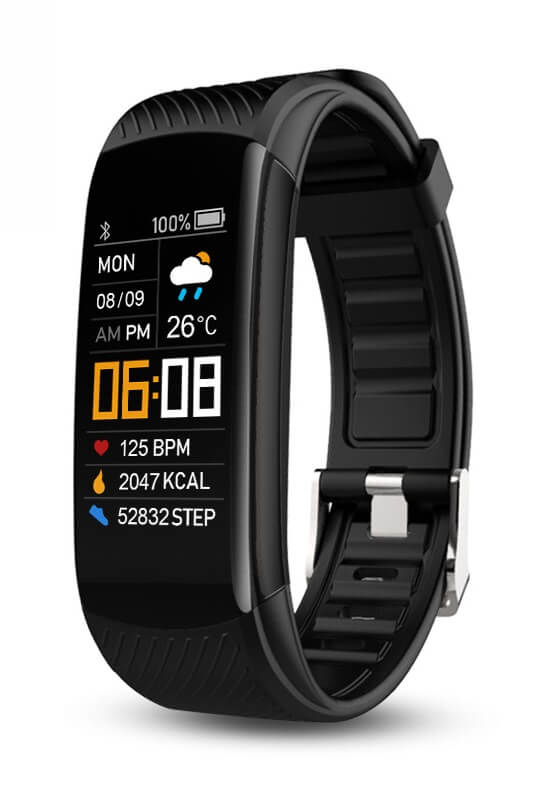 Model: SB1
Function: Real-time monitoring of patient's heart rate, blood pressure, blood oxygen, sleep monitoring.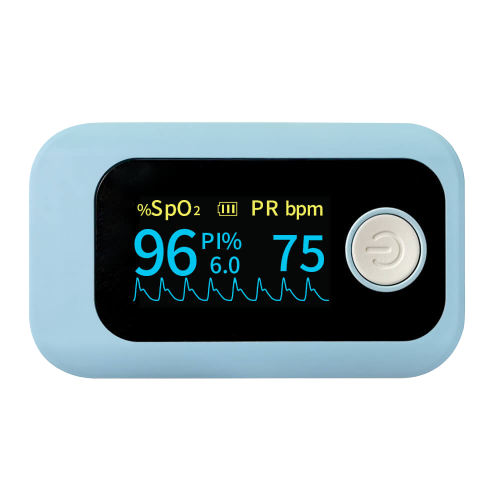 Model: SO1
Function: It can measure the patient's blood oxygen saturation and heart rate.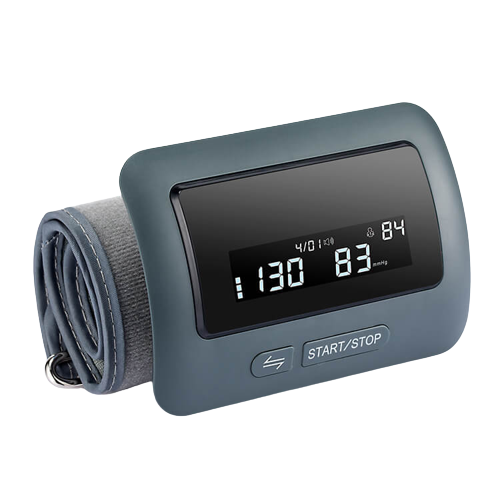 Model: BP1
Function: Blood pressure can be measured and data can be uploaded to the system.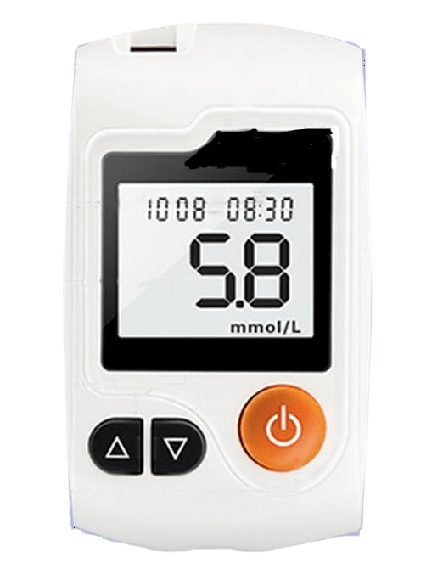 Model: BG1
Function: Blood glucose level can be measured and data can be uploaded to the system.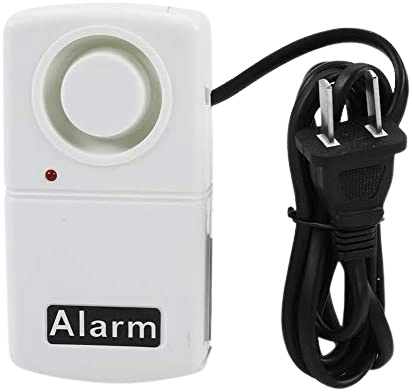 Model: PT1
Function: To alarm instantly once a equipment loses power and medical staff can receive the emergent prompt.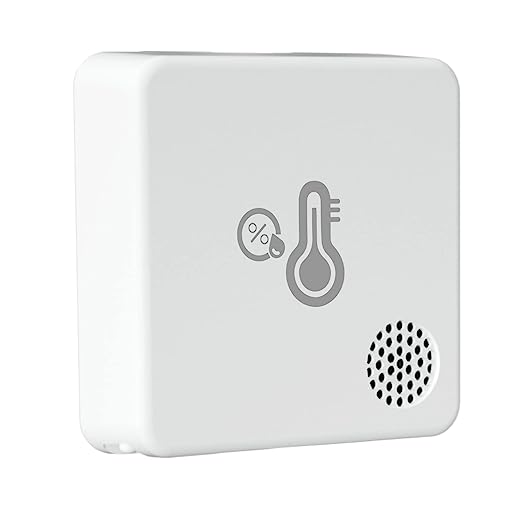 Model:ST6 
Function: To monitor the temperature and humidity. Historical data can be recorded.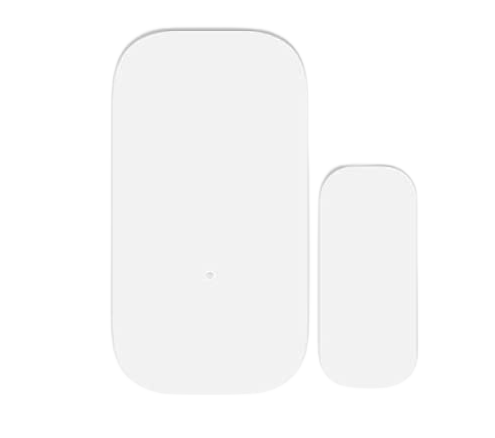 Model:SD1 
Function: To monitor whether the door of room and other doors are closed properly or not. And monitor whether patient go out at night as well.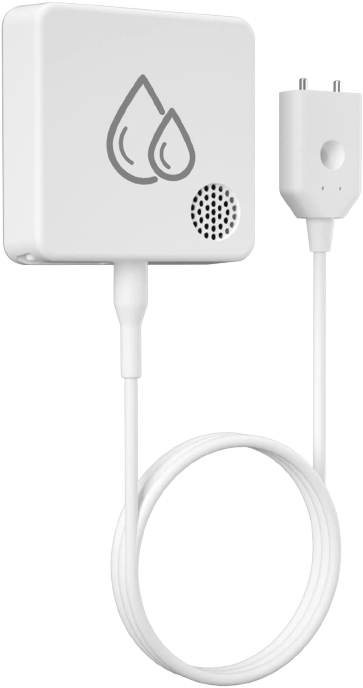 Model: SW2
Function: To detect whether there is water on the ground.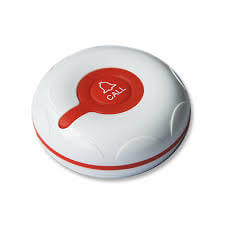 Model: CB1
Function: Message can be sent for help with one click, so that medical staff can provide timely help to patients.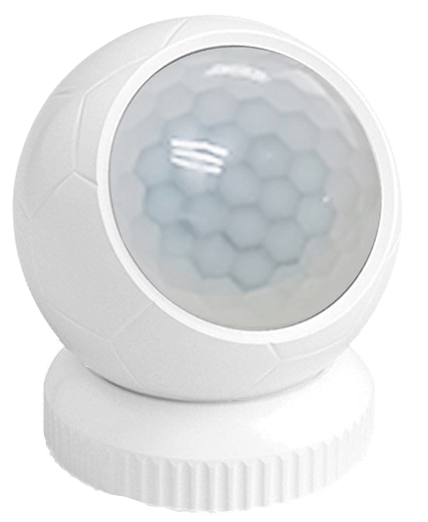 Model: SM2
Function: To detect the presence of patients in an area.
Stable system architecture
MOCREO system provides access and management capabilities for a large number of devices. Through connecting your IoT devices to the MOCREO cloud platform, the data could be transmitted to our cloud platform. 
Meanwhile, cloud platform can issues commands to devices to control remotely. By doing so, our system helps you quickly build IoT security monitoring solutions according to different application scenarios.
Devices
IoT platform
Application layer
Devices
That is, the perception layer and the network layer in IoT technology. 
All kinds of sensors need two conditions to access to the loT platform:
BLE/ZigBee/Wi-Fi/Lora/ and other communication methods
gateways connection and transmission
By doing so, it could make sure the devices transfers the data stably as well as consumes the low energy during the operation.
Of course, through 4G/5G/LTE-M/Ethernet and other networks, it can access the IoT platform, and use the MQTT protocol to report business data to the platform, and the platform can also issue control commands to devices.
IoT platform
Application layer
PS: General solution in the market includes wearable gadgets + smart watches + sensor + phone + cloud platform while beside the above five points, MOCREO solution includes a hub. Why?
wearable device (smart watch) + mobile phone + cloud platform → unstable → patient data cannot be stably received by medical institutions.
From a technical point of view:
The watch must use Bluetooth to save power; If you have built-in 4G, you need to charge it every day;
Bluetooth can only transmit data to a few meters nearby;
The mobile phone systems used by users are very different, and most of them do not allow the app to run in the background all the time, so it is impossible to continuously collect data, and the cloud platform cannot obtain data. Therefore, users must open the mobile app and connect to the watch EVERY DAYto transfer data.
This is the technical hurdle that healthcare organizations still fail to access data even with wearable devices. 
Therefore, our solution is to deploy a INTELLIGENT GATEWAY in the home to achieve real-time collection and transmission, and provide cloud services for third-party integration.
The sensor operates with low power consumption and has a battery life of more than 2 years. That means you needn't to charge the devices or change batteries frequently. An gateway can manage multiple devices to achieve a 1+N effect.
At the same time, you also needn't to train professionals to operate devices and personnel can immediately learn how to use and deploy them.
As you can see, our overall solution is cost-effective.
Easily scalable deployment
In the MOCREO solution, you just choose the corresponding IoT medical devices and then connect them with our gateway, so that you can manage the information of thousands of patients through a unified platform. It only takes several minutes to deploy them.
When we talk about the future, we expect not only to change dramatically in the way patients experience healthcare, but also in the way nurses provide care. The adoption of big data in the healthcare is the strong proof that the technology would bring much benefits for healthcare industry in the future.
Our solutions enable healthcare providers to remotely monitor and manage patients' conditions. The result increases efficiency, improves patient experience, and strengthens the quality of medical services.