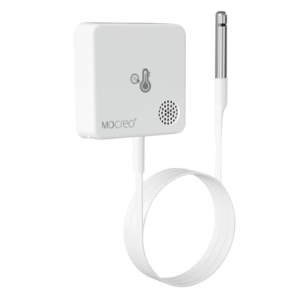 The MOCREO ST9 Sensor is the Temperature and Humidity Sensor. With waterproof Probe, this sensor is capable of adapting to a wider range of environments. It ensures minimal external interference, allowing for more accurate temperature and humidity measurements.
It can 24/7 automated monitoring and you can access the environmental conditions data on your phone, tablet or computer. When abnormal fluctuation occurs, the alert notification would sent to you via email, App notification, or local buzzer.
With ST9 Sensor, it keep an eye on the safety of your precious assets.
Model

ST9

Weight

 2.92 Ounces
Dimensions
2.44 x 2.44 x 0.75in (L x W x H)

Size of Stainless Steel Shell

φ5.2mm

Battery

3.7 V 1800 mAh Lithium Battery; Rechargeable
Temp Measuring Range
 -40°F~+221°F (-40°C~+105°C)

Accuracy

±1.8°F/±1°C (-22°F ~ 14°F/-30°C ~ -10°C)

±0.9°F/±0.5°C (14°F ~ 185°F/-10°C ~ 85°C)

±1.8°F/±1°C (185°F ~ 212°F/ 85°C ~ 100°C)

Humidity Measuring Range

0~100%RH 

Resolution

0.01°C

Precision

±0.3°C

Wireless Connection

BLE 4.2

Communication Distance

130ft/40m (No Obstacles)

Cable Length

1.5m

Cable Cross Section

4mm x1.3mm