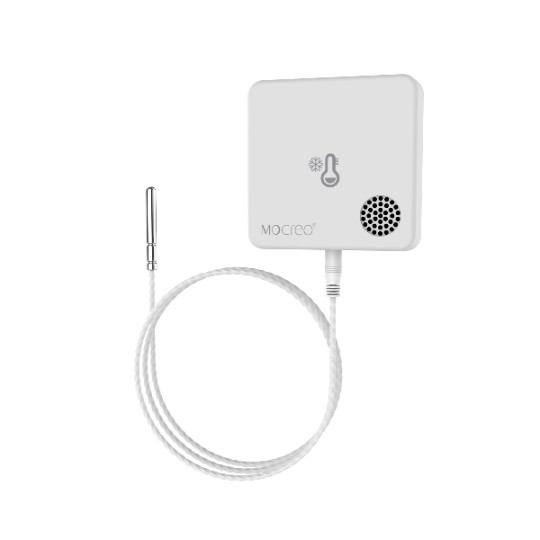 The MOCREO ST10 Sensor is the Cryogenic Temperature Sensor. It has the ability to detect a temperature range of-328℉~104℉(-200℃~40℃), making it suitable for precise temperature measurement in extremely cold environments.
It can 24/7 automated monitoring and you can access the environmental conditions data on your phone, tablet or computer. When abnormal fluctuation occurs, the alert notification will be sent to you via email, App notification, or local buzzer.
With ST10, it can provide precise temperature control for applications such as pharmaceutical preservation, laboratory, and industrial environments.
| | |
| --- | --- |
| Model | ST10 |
| Weight |  2.92 Ounces |
| Dimensions | 2.44 x 2.44 x 0.75in (L x W x H) |
| Battery | 3.7 V 1800 mAh Lithium Battery; Rechargeable |
| Temp Measuring Range |  -328℉~104℉(-200℃~40℃) |
| Accuracy | ±1.8℉ (±1℃) |
| Resolution | 0.01°C |
| Wireless Connection | BLE 4.2 |
| Communication Distance | 130ft/40m (No Obstacles) |
| Cable Length | 1.5m |
| Cable Cross Section | 4mm x1.3mm |